This article on Ki Aikido Versus Depression was provided by Bernard  O'Sullivan from the Cardiff club. The introduction is by Steve Pearce, the teacher at the club.
Introduction
Bernard's disability is the result of a virus attacking his spinal cord about twenty years ago. The condition is known as Transverse Myelitis. Prior to this Bernard had been a fit 1st Dan practising Ki Aikido in Cardiff. It took two years of immense effort and determination before he could walk. He has endured constant pain ever since, but Bernard has been my most regular student since 2011. He has been able to practice ki exercises and most Aikido techniques up to the point where he might otherwise have to squat or kneel. His kindhearted and considerate attitude has been a great demonstration of positive Ki to myself and other students.
Bernard attained his 1st Dan sometime in the 1980's - awarded by Sensei Williams himself. Many years later, when he was able to resume his Aikido practice, Bernard felt that it was more appropriate to wear a brown belt. He felt his knowledge of so many techniques had faded, and he was no longer able to perform to a Dan grade standard.
Steve Pearce
Ki Aikido Versus Depression
Two cases where my Ki training has brought me out of a dark place...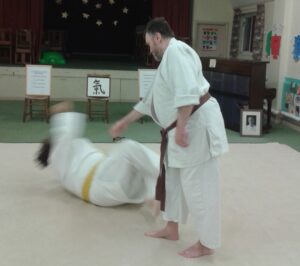 I was diagnosed by a consultant psychiatrist as clinically depressed, and was treated unsuccessfully by the medics. This was an awful period of suffering for me. I felt I was in a state of mental limbo. The doctors did all they could - to little avail.
In this state of clinical depression, I decided to make an all out attempt to practice all I had learned in the Ki Federation - to cast off this psychological disorder once and for all. I immersed myself in daily Ki training. Eventually, a positive, 'plus life' attitude took over. The depression finally lifted, leaving me an improved and much happier person.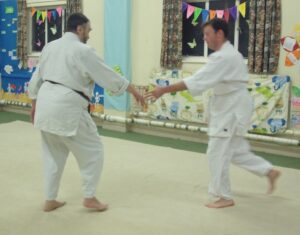 The psychiatrist was amazed at my change, from being clinically depressed to being well once more. I was able to get on with my life in a normal way again.
In my adult life, I have twice been in a coma and come out the other end a survivor. This is not common. A doctor was doing medical research into why some coma patients survive and others do not. When I came out of my second coma, she asked for permission to to use my case in her research. I gave her my consent and we talked in depth.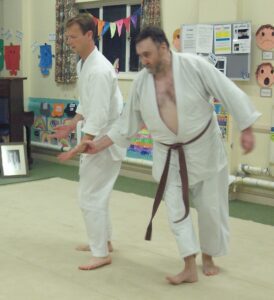 She told me that I was a 'fighter in the face of death'. That I battled on tenaciously to live, on both occasions. I explained that, despite not being in a conscious state, my positive will was there to live.
This positive mind I developed from learning in the Ki Federation. Thus, I have incorporated into my life a 'plus life' attitude, which is essential to living.
Bernard  O'Sullivan