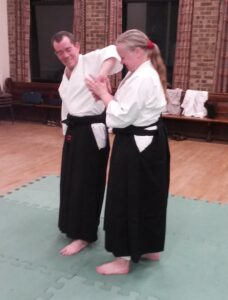 This article, on the effects of Ki Aikido, was sent in by Linda Keogh from the Northampton Ki Aikido Club...
I have practiced on and off over my life several forms of martial arts. Often attracted to the philosophy and spirituality behind them rather than the physicality. Whilst they have eased my mind at times, they have never really left me feeling complete. So I looked for other things to do in my area, and happened to find the Ki Aikido club here in Northampton. After several months, I got up the courage to email Sensei Walters, and he very kindly invited me along to watch a class. As I sat and watched I felt an inescapable sense of calm I had never experienced before, and felt at that point this was something I was drawn to…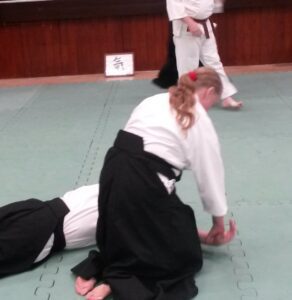 So here I am! Four months down the line, able to put my hakama on properly, and almost able fold it as well (keep forgetting the last bit!!). Struggling to remember which way to start my corner step. But my point is this - all my life I have sought help with autism, had endless battles, and fought to the edge of despair to get the help that I thought I needed. All the time thinking l needed someone else, some other treatment from another source. But within a few short months of starting Ki aikido, I have recognised the power to help myself is within me…
The reality and simplicity is so captivating, I think words are inadequate for how profound this is to me. Unlike things I have tried before (I train then I go home). But with Ki Aikido I cannot simply leave it on the mat. I find my mind constantly drifting back to and comparing situations in my daily living, and applying how I dealt with things in practice to other parts of my life.
I know will still get overwhelmed by daily life, and will still have shutdowns and panic attacks. But I also know if I just keep practising, however hard it gets or however frustrated I get, I will start to find better ways to help me deal with myself.
Linda Keogh