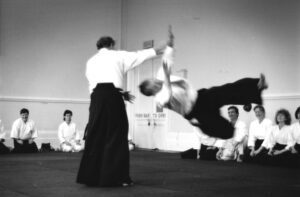 We congratulate the following members who passed their grading in November and also thank the members who came to make ukemi.
1st Dan: E. Matthews and A. Fox-Lewis
2nd Dan: J. Learoyd-Hill
3rd Dan: A. McCormack and V. de Bruin from Holland
On 6th December we have one 1st and one 2nd Dan grading, so we will require members to make ukemi please.
Cold Aston club will close at the end of November as the teacher, James Stringer, is moving to Bankok . We hope all goes well for James and send him our best wishes.
There is a message from Sensei Margaret in the "Teachers News" area.
Additional Courses for 2015
The Ki Therapy course for 1st Dan and above has now been arranged for the 7th & 8th February. If anyone wishes to book, please contact the office and a booking form will be sent to them.
We have also arranged for a special Course for 2nd Dans to prepare for 3rd Dan Grading which Sensei O'Connell has agreed to take. As Sensei O'Connell will be travelling down from Scotland we would appreciate a good attendance. The course is on 18th April, 11 – 1pm and 2.30 - 4.30pm. Higher grades can also attend this course.
Teachers course: 26th September, 11 - 1pm
Muswell Hill area course, with Kyu grading: 7th March.
Paris course: 4th & 5th April
Canada (Vancouver) course: 16th, 17th & 18th May.