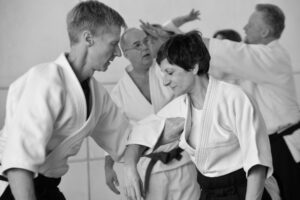 Here is the March 2020 Aikido update for the Ki Federation of Great Britain.
We congratulate the following members who were up-graded on their Dan Grade group courses...
4th Dan: A. Britnell and R. Flood.
5th Dan: G. Skiggs, L. Nabb and M. Stringer.
We have cancelled the Basic Sword course on the 22nd of March, as insufficient numbers have booked. Members can still book the Basic Sword course on the 17th October.
Mr Ian Lakin, teacher of the Cressage club, has decided to retire from teaching. He has handed the club over to David Sothern as of the 17th March. The club has also moved the venue from Cressage to Shrewsbury. We thank Ian for all his teaching and attendances at Headquarters over the years, and wish him the very best in his retirement. He will still be attendingn his Dan Grade group courses. We also wish all the best to David on taking over the teaching in the new area.
Taeko Kawano has closed the Chrystal Palace club, for the time being. She does expect to re-open her club later in the year.
At the moment, Sensei Aitkenhead will still be travelling to Paris to take the weekend course on the 4th & 5th April.  It is possible that the situation may change due to the coronavirus.
We send our best wishes to any of our members who have been affected by the latest storms and flooding.