At headquarters, there is a bound book of photographs in tribute to a wonderful aikido gentleman - Les Bragg, who sadly passed away last October.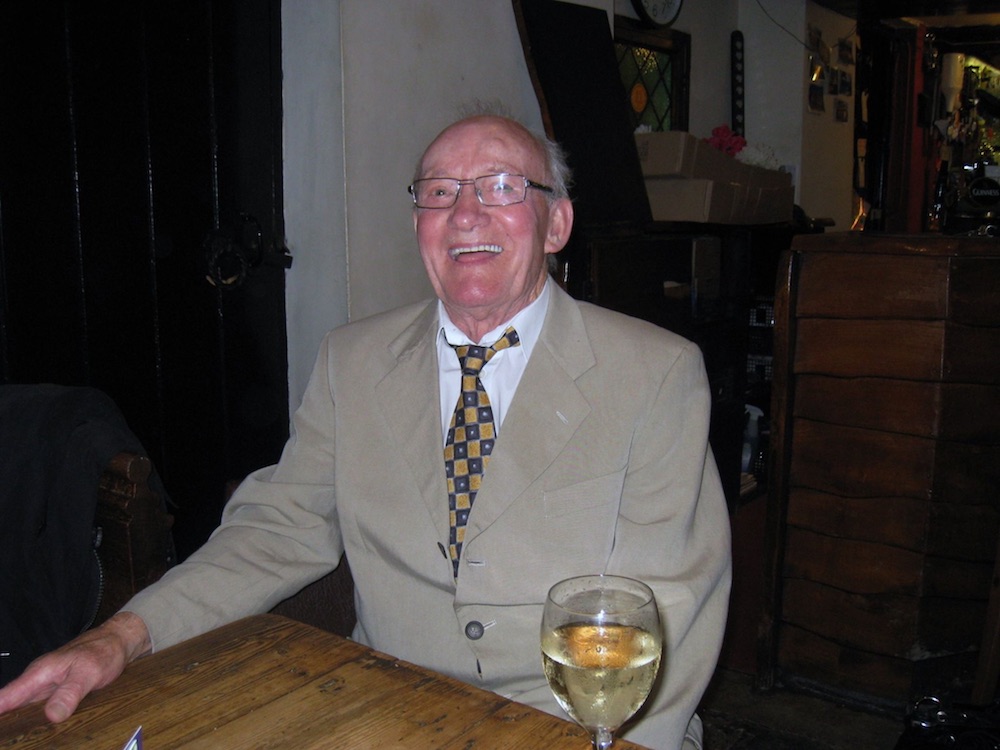 I (Ian Walters) was recently looking through this book, recalling fond memories, when I found a piece of paper folded inside. This was the text of the eulogy that Neil Shaw had read at Les's funeral. I thought that this would be meaningful to all of us who knew and admired this wonderful aikido gentleman.
Les's Eulogy, 25 October 2016, by Neil Shaw
It was around 14 years ago that by chance a friend and myself booked into Mrs Puddy's B&B for a few days at the Autumn Seminar. The next morning we went into breakfast and two older gentlemen were sat there. Mrs Puddy introduced them as two of her "K I" Fighters, these were Les Bragg and Sensei Ford. Every time I went there, Les seemed to be there. Of course, in the evenings, we used to go to the pub etc, and chat with members from all over the world. Les used to listen, laugh along with all of us and share stories about aikido history.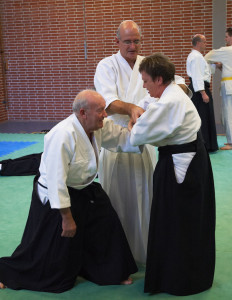 Ten years ago at one of these evenings our friend Dimitri, from Moscow, invited us to go and visit. Probably as a result of having sampled too many of the local ales it was agreed we would go. I remember Les sitting there and suddenly asking if he could come along with us. Lynne and myself thought about this overnight - after all Les would be 74 when we went. But having previously been abroad with him in Holland for a seminar, where he had been fine, we decided, yes, why not, what could go wrong?
It started at Heathrow. We had provided him with the list regarding items that could be in hand luggage. Just before we went through security I happened to ask about it, and he mentioned he had scissors in there. We decided to check. As well as scissors, there were large cans of shaving foam, anti-perspirant and various other items, all of which had to be thrown out. Les wasn't very happy about it.
We were then sat at the departure gate when a call came over the public address requesting that a Mr Leslie Bragg make himself known to a member of the ground crew. He had only handed in his return flight ticket, rather than his outbound one.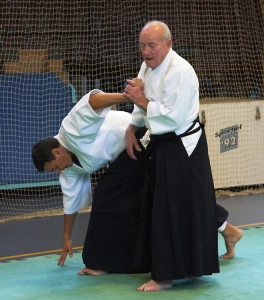 We arrived in Moscow and it was unexpectedly hot. Thirty degrees Centigrade, and so we had to go and buy sun cream and hats. I was looking around the shop when, suddenly, there was a woman shouting in Russian and a security guard looking somewhere behind me. I turned to find that, somehow, Les had managed to wander behind a counter, much to the anger of the shop assistant.
On our last night in Moscow we had been invited to practice at the Moscow Ki Aikido Club, when we arrived there was a cloudburst and we were soaked. The dojo was on the 9th floor of a University building, and there wasn't a lift, so we all had to use the stairs. Les struggled towards the end but made it without any help. We decided the best thing would be to get changed and put our clothes to dry. Les said he had better nip to the loo first only to be told it was on the 2nd floor. The look of disbelief on his face was a picture.
We moved on to St. Petersburg and, on arrival at the hotel, found a big queue to check-in, so not in a rush we sat down for a coffee. Les decided to go to the loo, only to realise, on exiting, he had been in the ladies.
Les had paid a single room supplement. But I guess that means something else in Russia, because on entering his room he was greeted with the sight of an elderly woman sat on the toilet with the door open. There ensued an exchange of words where each accused the other of being in their room. But it all got sorted via interpreters a few hours later.
After that excitement we were hungry and decided to eat in the hotel. None of the menus were in English, so after much use of the phrase book we were ready to order. Les decided to have a Russian soup called Borsch. Just to make sure it was okay we showed the sign in Russian that Dimitri had made (saying "I am a vegetarian but I will eat fish") to which the waiter nodded. When it came out there were two egg sized balls which Les decided were probably dumplings so preceded to drop them in his soup. When he got to the bottom they had gone, so we asked a waiter who could speak English what were they only to be told to Les's shock that they were lard balls! That night he used his whole trips worth of Gaviscon because of the indigestion.
We got him back safely and had other trips with him that were less problematic, I'm glad to say. Another to Holland when we were flying from East Midlands Airport gave us the chance to take Les to the village he was evacuated to in the war. We found the house where he lived, the school where he was taught, and spent a couple of hours with one of the children of the family he stayed with exchanging reminiscences.
We spent many Summer Schools together, we were always eventually able to persuade him to take part in the fancy dress, including going as Wee Willy Winkie, a clown, spiv etc. His birthday also fell during the Summer School and each year he would say he wasn't coming if we were arranging a party for him. But he always did come, and after the initial annoyance, always relaxed and enjoyed himself. We always did a cake for him. Allegedly, he himself was a good baker - he always took a cake to Mrs Puddy's and she said how good they were. We can't say if it was to Bake-off standard because she never did share any of it!
As we know, his health slowly worsened over the years. In particular, his legs and knees limited him as to how much he could participate on the mat. Once I remember him struggling to get changed after a session - as I went to help him, he said "The hardest Ki Test of all is standing on one leg whist putting a sock on".
He could be a magnet for the odd quirk of fate. This included someone taking his new shoes and leaving an identical old pair in the changing room. He had to go home in those and we never did get to the bottom of that one. There was him falling over whilst taking off his sock and, as a result, having to go to the hospital at midnight to get about a dozen stitches in his elbow. Spending time with Les was always something we looked forward to and enjoyed.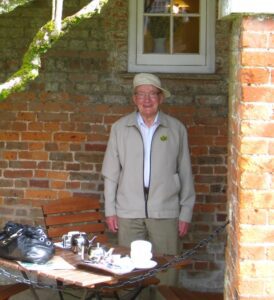 Through the Ki Federation and his ever presence on courses at HQ Les built up a network of friends from across the globe. Many comments have been left on Facebook, by them, about how much he will be missed. I can only add to those today, and say goodbye Les. You leave us with many fond memories. Thank you for your friendship. Love from Neil and Lynne.