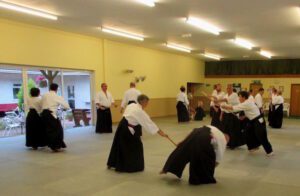 Congratulations to those Dan Grades who were awarded 6th Dan on their dan group course. They are: I. M. Bamford, A. Botto, T. Brown, I. Lakin, D. Parr and F. Blake.
For  the Christmas Course, on the 10th December, we have  5 members going for 1st Dan grading, 3 for 2nd Dan grading and 3 for 3rd Dan grading. So, we require Dan Grades to make ukemi please. The course time has been changed - it is now to 3pm to 5pm.
Would teachers please remember to give a Dan Grade application form to their members who have been invited for Dan Grading next year. This should be sent to the office at least 6 weeks before their grading date.  This is a separate form from their personal letter.
The Stewartfield club has booked an area course on the 4th December with a Kyu Grading. As this is new information, close to the date, kyu grading applications can still be sent to the office.
A second course in Canada has now been booked for the 13th and 14th  May, 2017. This is in Toronto, a week before the Vancouver course.
J. Gwyther-Brown is opening a Junior Club in Chew Stoke, in January. We wish her all the best with her new club.