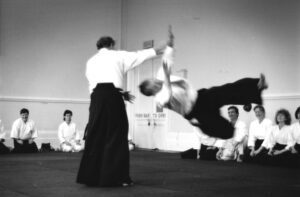 We all had a wonderful Christmas Aikido course with Sensei Williams on 6th December - the final course of the year.
Congratulations to the following members who passed their Dan Gradings...
1st Dan: C. Whyton
2nd Dan: V. Stephens
6th Dan: K. Easdon
In January, Vaughan Lewis will taking over the Argoed club from Steve Woolfall who will continue to teach his Pontypool club. We wish Vaughan well when he reopens his club. We hope to have many more clubs opening in 2015.
The office will close on the 19th December for the Christmas break, and will re-open on the 19th January.
The Wednesday night high Grade classes in Headquarters, for brown belt and all Dan Grades, end on 10th December, and will restart on 14th January.
We hope everyone has a lovely Christmas and a great New Year.