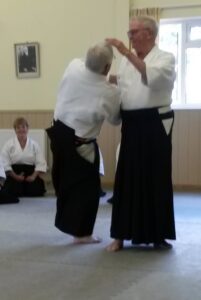 Congratulations to the following members who were graded 5th Dan on their 4th Dan group course in November: J. Monaghan, C. Hudson, A. Hesketh, A. Palmer, R. Wythe, M. Telford and M. Telford.
We have two members from Australia who will be attending our New Year Course on the 23rd and 24th of January. They will be taking their grading for 1st Dan and 3rd Dan, so we will require ukes - if any Dan Grades can attend, would they please inform the office.
An additional area course has been booked by the Derby club for 2016. The exact date has yet to be confirmed, but is likely to be in July.
The last Headquarters Wednesday class for 2015 will be on the 9th December, and the last Friday class on the 11th. The Wednesday classes restart on January 13th, and the Friday classes on the 15th.
The Ki Federation office will close for Christmas on the 18th December, and re-open on the 12th January.
We wish all our members, in the UK and abroad, a wonderful Christmas and a peaceful, happy, healthy New Year.