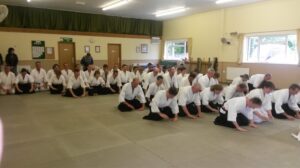 Here is the January 2019 aikido update for the Ki Federation.
New Year Seminar
As mentioned in the previous update, the times for the New Year Seminar on Saturday, 26th January have changed. The Dan Grading will start at 11am, and the course will be from 2pm to 4pm. The Sunday remains unchanged  - 10:30am to 12:30pm with the Kyu Grading at 12:45pm.
We do require Dan Grades to make ukemi for the Dan Grading. So please let the office know if you can attend.
In honour of Burns night, we are providing a haggis on the Saturday evening of the seminar. Please let Sensei Margaret know if you are going to The Sexeys Inn that Saturday, and would like a taster of Haggis. Pauline (from the The Sexeys Inn) would like to know the approximate numbers in advance.
Dan Gradings
Would members who have an invitation to take their Dan Grading this year please return the lower part of the letter, even if they are declining the invitation. If teachers have members who wish to re-take their Dan Grade this year, please forward the names to Sensei Margaret. The office will then arrange a new date.
---