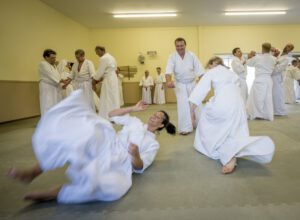 Here is the September 2018 Aikido Update for the Ki Federation of Great Britain.
The Ki Federation will not be sending individual group course invitations to each Dan Grade, in order to reduce the use of paper. The office has sent the 2019 details to the teachers for distribution in their dojo. If a Dan Grade is unable to attend on any of their course dates they are welcome to attend any of the lower group courses. These groups should be attended in order to maintain the standard of the Dan Grades within the Ki Federation.
The office has also sent out the Booking forms for the 2019 Tanto and Sword courses. These are also available in the Documents section of the teacher's area.
International courses for 2019...
Dimitri Popolov has booked a course in London, Ontario, Canada on the 11th & 12 May.
Wayne Nagata has booked a course in Vancouver, Canada on the 18th 19th & 20th May.
The Paris Federation have booked their course for the 6th and 7th April.
We require Dan Grades to make ukemi at the Autumn Seminar on 6th October - please let the office know if you can attend.