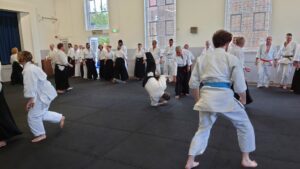 Here is the September 2023 Aikido update for the Ki Federation.
We hope all is well and the stormy weather has not brought problems to anyone. Thank you to everyone who helped on the High Grade Group and Teachers course.
Unfortunately, due to certain circumstances, the course in East Kibride, Scotland, on October 7th. has been cancelled. Another course has been planned for the 4th November. The venue is Kelburn Cricket Club, Paisley, PA1 3SF, Scotland.
When arranging courses for the 2024 calendar we have avoided scheduling around Bank Holiday times. This is due due to the heavy traffic we experience in the HQ area at these times. We may arrange additional courses throughout the year.
When the 2024 course calendar is published, shortly, you will see that 4th Dans can now book onto the Basic Sword courses. The Advanced Sword courses remain open to 5th Dan and above. The Tanto courses can be booked by 3rd Dans. As we only have a limited number of members on these courses it is advisable, if you wish to attend, to send the booking application form early.
An additional course for Teachers is arranged on the 1st June 2024 to study ukemi.
We require Dan Grades to make ukemi on the Autumn Seminar Dan Grading on 28th October, so pleasecontact the office if you will be available.
Due to the low numbers booked on the 18th November, the Basic Sword course will combine with the Advanced Sword course in the afternoon. Instead of separate classes in the morning and afternoon, the course will run from 2pm to 4pm, and members will be taught individually.
Our best wishes to everyone.
Click here to go to the 2023 Muswell Hill Course image gallery.
I'm sorry.
You must use a Javascript-enabled browser to view the contents of this page.